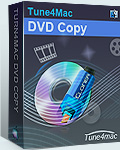 $ 39.95
Mac DVD Cloner
Mac DVD Cloner is a powerful DVD copy program, which can support DVD-9 to DVD-5 compression. With user-friendly interface and simple operation, it can clone DVD with 1:1 ratio at high speed and with good quality.
With Mac DVD Cloner, Mac users can quickly create backups of their favourite collections. It can remove DVD copy protections including DVD region code, CSS, UOPS, ArccOS, and so forth.
US$ 39.95

Free Download

Version 1.0.8
(2.5.1MB)
Copy DVD movies
1:1 Ratio
Quickly and perfectly copy DVD-9 to DVD-9, DVD-5 to DVD-5 in 1:1 ratio with all the menus, extras, subtitles, and audio tracks. Provides state-of-the-art technology to make better picture quality DVD copies.
Backup DVD to DVD folder

Copy any DVD movies to your Mac as DVD folder, you can play it with any DVD player, such as DVD Player build-in Mac. If you have a lot of DVDs and want a back up copy, Mac DVD Cloner is your best choice.

Remove DRM Protections
DRM protections removal easily
The Mac DVD Cloner can automatically remove the copy protection of a DVD movie including DVD region code, CSS, UOPS, ArccOS, and so forth, as soon as it's inserted into the drive, allowing users to backup the movie free and viewable on any DVD player and with any DVD player software.
Support both NTSC and PAL DVD movies.
DVD Compression with High Quality
Easy-to-use Interface to copy 100% Picture Quality
Compress DVD-9 (Dual layer 8.5GB disc) movies and copy it to a regular DVD-5 (4.7GB disc) DVD-R/RW or DVD+R/RW with excellent movie quality.
High Compatibility
Mac DVD Cloner works pretty well with DVD+-R/RW, DVD-RAM, most DVD players and burners, and Dual Layer 8.5GB disc.
This Mac DVD Copy program can copy both NTSC and PAL DVD movies.
System Requirements
• Mac OS X 10.5 or later
• At least 512M physical RAM
• 1G Hz Intel processor, or above
• Recordable DVD drive
• 1024*768 resolution display or higher